About Us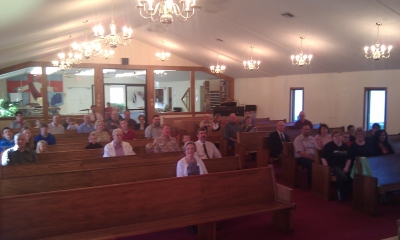 Good Shepherd is a gathering place for sinners redeemed by the blood of Jesus Christ. Formed in 1980 in Bowling Green, Good Shepherd has a great history of service to the people of Bowling Green, Missouri.
So who are we? Good Shepherd is:
Lutheran. We joyfully confess the Christian faith as it is taught in Martin Luther's Small Catechism and the other confessional documents of the Lutheran Church.
Liturgical. We follow the historic liturgical traditions of the Western Church. This includes the historic liturgy, traditional vestments and paraments, and the rich musical heritage of the Lutheran Church.
Family Friendly. We seek to be a welcoming environment to people of all ages, encouraging families to worship and learn together.
Serving the whole community. We desire to be servants to those in need.
What to Expect
When you visit Good Shepherd you can expect meaningful and relevant worship, friendly people, and a message based solidly on the Word of God proclaiming the Gospel of Jesus Christ. Our Sunday service is at 8:30 AM with Sunday School and Adult Bible Study after it at 9:45 AM. When you enter the church for worship, you will be greeted and given a bulletin by a member. This bulletin includes the day's Bible readings, hymn numbers, and announcements. Feel free to sit wherever you'd like in the church.
And they devoted themselves to the apostles' teaching and the fellowship, to the breaking of bread and the prayers. - Acts 2:42 (ESV)
In your pew, you'll find a copy of our church body's hymnal, Lutheran Service Book. Services at Good Shepherd use this hymnal and all the responses we speak, prayers we offer, and hymns we sing are found within. While this may seem foreign to the way many churches worship, we find that there is a great comfort to speaking and praying the words of the Scriptures often and frequently. The service we use is based upon the traditional liturgy (rituals and public worship of the Church) of the Christian Church. So most of the words we speak and hymns we sing are centuries, or even millenia old, and have been spoken and prayed by countless Christians ever since the time of Jesus. They have withstood the test of time and proven effective at teaching people about Jesus and keeping people in the Christian faith.
Worship tends to be reverent, reflecting our belief that God is truly in our midst and so our actions and words strive to show honor and glory to Him alone. It usually involves:
Confessing our sins (as a group) to God and hearing of the forgiveness He offers though His Son Jesus Christ.
Having been forgiven, we sing praise to God and hear about all He has done for us in the Scripture readings and sermon.
From God's word, we confess our faith, present our gifts, and offer our prayers.
On the 1st, 3rd, and 5th Sundays of the month we receive the great gift of Holy Communion.
Finally, we receive God's blessing and go forth to live as His children in our world.
In him we have redemption through his blood, the forgiveness of our trespasses, according to the riches of his grace... - Ephesians 1:7 (ESV)
We strive to make sure visitors feel comfortable, so don't worry about feeling out of place, not knowing much about the Bible, or that we'll do something to embarrass or draw attention to you. We hope you see the people at Good Shepherd to be ordinary people just like yourself. None of us have all the answers, and our knowledge of the Bible varies between members. But we believe that Good Shepherd is the best place to grow in knowledge of God's Word and gain a deeper faith in Jesus Christ. We welcome all children to attend our services, and aren't bothered if they're a little loud or distracting. If you do feel uncomfortable with your child's noise level, feel free to head out to our narthex which has speakers so you're still able to hear the service. Hopefully this answers some of your questions, and if you have any others feel free to e-mail or call our pastor!